Premarital Counselling

When it comes to major life decisions, getting married is one of the biggest. No-one wants to get married just to have a big messy divorce a few years later. This is where Premarital counselling can help!
I honestly think that most people are truly looking to find the love of their life, get married and live happily ever after. When they start out on this journey they are serious and completely committed to making the marriage work – but then something happens.
The communication starts to shut down, the affection stops, the trust gets challenged and neither person feels safe to be honest in the home anymore.  The person you fell in love with, just isn't the same person you thought you knew.
I see it everyday. Ive even seen it in my own life – and its no fun at all.
But how can two people that were so in love, and so committed to each other, be so far apart now?
Sometimes when we get into a relationship we are so taken by the feelings and attention of our partner that we overlook things maybe we shouldn't because we don't want to speak up and risk hurting the connection.
Or sometimes we think that the other person will change their minds or behaviors, and we compromise our true feelings until later when we are disappointed that they didn't change after all. The reasons can be endless.
No matter how well we know a person, there are always some differences: family backgrounds, traditions, ideas, temperaments, personalities, cultural influences…and past relationship luggage we carried forward from our ex's.
The main goal of premarital counselling is to prepare couples and help them explore, identify and confront potential issues that might create conflict in an ever changing marriage. As well as help them gain perspectives and give them powerful tools to overcome some of those struggles.
Prepare Enrich Relationship assessments can help couples THRIVE in this area!
With Prepare Enrich I can help couples
Explore strength and growth areas
Strengthen communication skills
Identify and manage stressors
Resolve conflicts with a 10 step model
Help balance the relationship using couple and family maps
Understand personality differences.
How does it work?
It is super easy!
The couples each fill out an online relationship assessment that will be sent to your email by the facilitator. You can do it at your leisure and in a private confidential location you feel safe in. (The report is completely customized and personally relevant to each couple)
Then when both couples have completed the survey, they meet in the office together and the couple will be given a 10 page Couples Report to review step by step with the counselor. This process focuses on the strengths, identifies potential issues and helps the couple get confidence and clarity in many different areas.
Some of the areas included are:
communication
conflict resolution
partner style and habits
financial management
leisure
sexuality/affection
relationships roles
personalty profiles
assertiveness, confidence, … and much more!!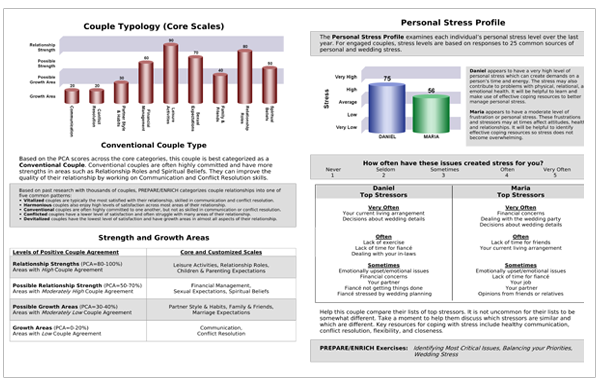 Prepare Enrich is not intended to predict marital success or failure, to be a test that has a passing or failing grade, or intended to only deal with weakness in the relationship. The intention is to increase the quality of your relationship through dialogue and discovery. The motto is "building strong marriages."
Prepare Enrich relationship assessments along with solid counselling can help you to ensure you have done everything you can to help prepare yourself for a long and happy marriage.
Would you buy a car and not get it checked out by a mechanic?
Of course not!  So why do that to your marriage?
Call today and start your journey towards a stronger healthier relationship.